Skip to Content
Metal Plate Rolling Machines
When it comes to high-quality plate roll machines, no one pairs performance with affordability like U.S. Industrial Machinery in Memphis, TN. Our machines go through rigorous testing and quality assurance checks to ensure our customers receive nothing but the best. Every piece of equipment comes with a one-year warranty, and our team offers continuing support to customers for troubleshooting and specification questions throughout the life of your machine for the original purchaser. You'll always have a U.S. Industrial Machinery specialist available when you need us.
Standard Model Plate Roll Features
Our standard model plate rolling machines are available in four sizes; 5′ x 3/8″, 6′ x 5/16″, 8′ x ¼", and 10' x ¼". Custom-built machines are also available for needs outside of these sizes. Contact us to learn more about special requests. Features on all standard models include:
Powered roll adjustment
Precision pinch roll adjustment
Top roll swing-out
Emergency trip line
Pedestal control
Quick roll adjustment
Roll position indicators
Crowned rolls
High torque gearbox
Low voltage push-button controls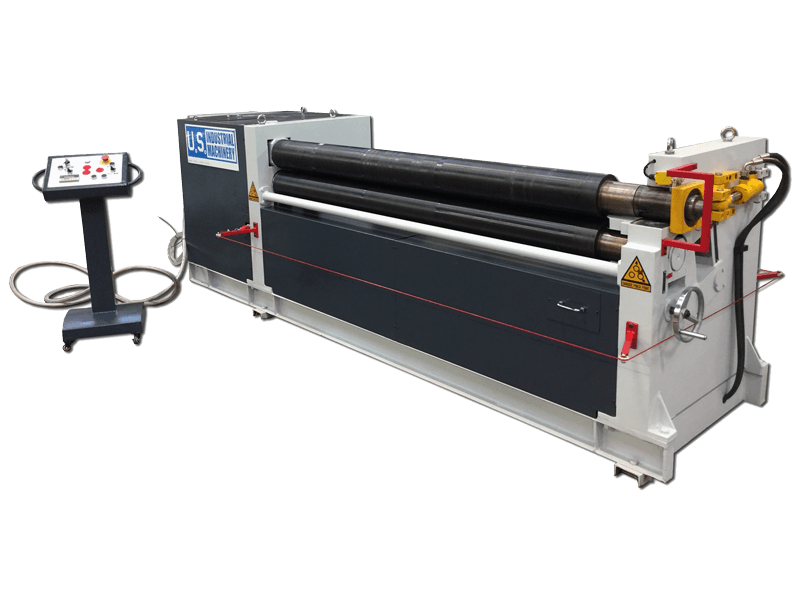 Plate Rolls for Every Job
Our plate rolling machines are gear-driven and can be adjusted to pinch varying metal thicknesses up to the machine's capacity. The LED display on the controller shows the position of the bending roll with memory storage so operators can repeat bends accurately. With the operator control panel's long extension cord, it's easy to maneuver the controls to work from either side of the machine. The electrical cabinet uses standard electrical components that are always in stock in our warehouse for fast replacements when needed.
The Video Below Provides a Detailed Overview of Our U.S. Industrial Plate Rolls
Contact Us for a Quote on Plate Rolls
Contact the team at U.S. Industrial Machinery for a quote on our inventory or custom-built plate rolling machines. We have more than 30 years of experience supplying businesses with across the Nation with high-performing machine tools that meet the demanding needs of their work. We're always available for technical support and have field technicians for servicing our products. Call us to get a quote today.
U.S. Industrial Roll Models
Larger models can be quoted upon request.
5' x 3/8"
6' x 5/16"
8' x 1/4"
10' x 1/4"
Capacity

5' x 3/8"

5' x 3/8 Mild Steel @ 65000 PSI

6' x 5/16"

6' x 5/16 Mild Steel @ 65000 PSI

8' x 1/4"

8' x 1/4 Mild Steel @ 65000 PSI

10' x 1/4"

10' x 1/4 Mild Steel @ 65000 PSI
Pre Bend Capacity

5' x 3/8"

3/8" Mild Steel @ 65000 PSI

6' x 5/16"

5/16" Mild Steel @ 65000 PSI

8' x 1/4"

1/4" Mild Steel @ 65000 PSI

10' x 1/4"

1/4" Mild Steel @ 65000 PSI
Top Roll Diameter

5' x 3/8"

6.57" / 6.7" (ends/middle)

6' x 5/16"

6.57" / 6.7" (ends/middle)

8' x 1/4"

7.4" / 7.5" (ends/middle)

10' x 1/4"

7.4" / 7.5" (ends/middle)
Bottom Roll Diameter

5' x 3/8"

6.57" / 6.7" (ends/middle)

6' x 5/16"

6.57" / 6.7" (ends/middle)

8' x 1/4"

7.4" / 7.5" (ends/middle)

10' x 1/4"

7.4" / 7.5" (ends/middle)
Bending Roll Diameter

5' x 3/8"

6.22" / 6.34" (ends/middle)

6' x 5/16"

6.22" / 6.34" (ends/middle)

8' x 1/4"

6.67" / 7.1" (ends/middle)

10' x 1/4"

6.67" / 7.1" (ends/middle)
Speed

5' x 3/8"

12.5 F.P.M.

6' x 5/16"

12.5 F.P.M.

8' x 1/4"

12.5 F.P.M.

10' x 1/4"

12.5 F.P.M.
Main Drive Motor

5' x 3/8"

5.5 HP Gear Reduction Drive

6' x 5/16"

5.5 HP Gear Reduction Drive

8' x 1/4"

5.5 HP Gear Reduction Drive

10' x 1/4"

5.5 HP Gear Reduction Drive
Adjustment Motor

5' x 3/8"

3 HP

6' x 5/16"

3 HP

8' x 1/4"

3 HP

10' x 1/4"

3 HP
Machine Length

5' x 3/8"

127"

6' x 5/16"

144"

8' x 1/4"

160"

10' x 1/4"

177"
Machine Width

5' x 3/8"

54"

6' x 5/16"

54"

8' x 1/4"

54"

10' x 1/4"

54"
Machine Height

5' x 3/8"

44"

6' x 5/16"

44"

8' x 1/4"

44"

10' x 1/4"

44"
Net Weight

5' x 3/8"

4150 lbs

6' x 5/16"

6800 lbs

8' x 1/4"

8025 lbs

10' x 1/4"

9250 lbs
Voltage

5' x 3/8"

220/440 3 PH

6' x 5/16"

220/440 3 PH

8' x 1/4"

220/440 3 PH

10' x 1/4"

220/440 3 PH

5' x 3/8"

6' x 5/16"

8' x 1/4"

10' x 1/4"

Price:

5' x 3/8"

$19,990.00

6' x 5/16"

$26,990.00

8' x 1/4"

$36,990.00

10' x 1/4"

$43,990.00
Options:

5' x 3/8"

6' x 5/16"

8' x 1/4"

10' x 1/4"

Hardened Rolls

5' x 3/8"

$1,295.00

6' x 5/16"

$1,295.00

8' x 1/4"

$1,495.00

10' x 1/4"

$1,495.00
Cone Rolling Attachment

5' x 3/8"

$995.00

6' x 5/16"

$995.00

8' x 1/4"

$995.00

10' x 1/4"

$995.00
LED Readout With Memory

5' x 3/8"

$1,995.00

6' x 5/16"

$1,995.00

8' x 1/4"

$1,995.00

10' x 1/4"

$1,995.00
Hydraulic Top Roll Swing-Out

5' x 3/8"

$1,990.00

6' x 5/16"

$1,990.00

8' x 1/4"

$1,990.00

10' x 1/4"

$1,990.00
Total Price:

5' x 3/8"

$26,265

6' x 5/16"

$33,265

8' x 1/4"

$43,465

10' x 1/4"

$50,465