Skip to Content
Precision Geared Head Engine Lathes
U.S. Industrial Machinery is your headquarters for precision-geared head engine lathes to complete jobs that require precise shaping of metals. Our standard stock machines range in size from 13 x 40 to 26 x 120, however; we can accommodate custom lathes of any size.  In addition to our competitive prices, customers benefit from our continued support and troubleshooting assistance throughout the entire life of their machine. When you buy from us, we are here when you need us to offer any technical help you need.  Most of our machines come with a one-year warranty on parts and labor.  Need a lathe for bigger jobs than our standard line covers? Contact us for a custom quote.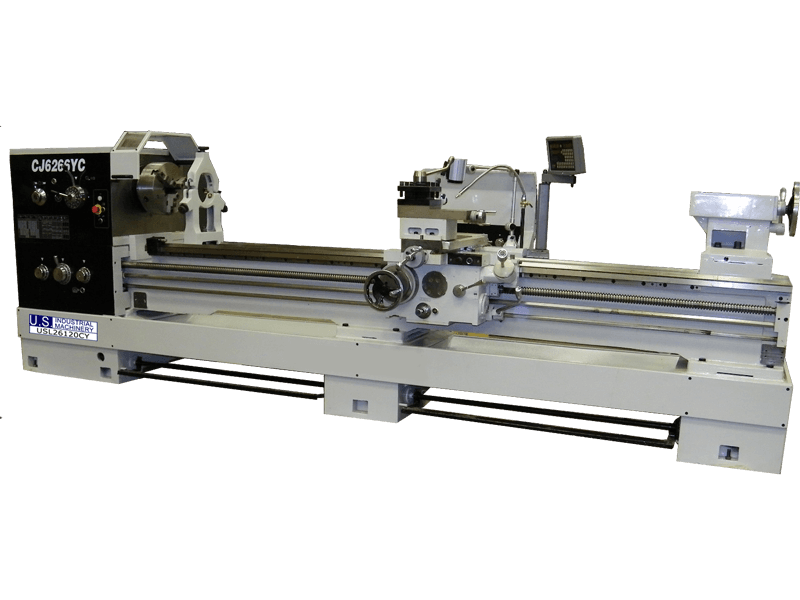 Standard Line Engine Lathe Features
All lathes are assembled in our Memphis, TN facility and undergo complete testing, calibration, and adjustments to ensure optimal performance when delivered. Most standard model lathes include the following features:
3-jaw chuck and 4-jaw chuck
Face plate and dog plate
Chuck guard
Steady rest and follow rest
Splash guard
Flood coolant
Thread dial
Digital readout
Taper attachment
Heavy Duty Geared Head Engine Lathe
For more demanding work and the ultimate execution of rigorous jobs, we offer a heavy-duty geared head engine lathe for heavy turning. When your industry or profession calls for it, we deliver with some of the most substantial machinery in the business. This heavy-duty lathe features:
Weight capacity between centers of more than 40,000 lbs
Swing of 40" to 120"
Center Distance of 10' to 80'
High horsepower headstock
Hydraulic tailstock quill and power travel
Rotating center and 3-jaw chuck on tailstock
Heavy-duty roller support
Heavy-duty steady rest
Extensive four-way bed
Find a High-Performance Lathe Today
U.S. Industrial Machinery offers a complete line of precision lathes to handle jobs of all sizes for customers from every industry. No matter how large or small your needs are, we offer excellent customer service, technical support, and a one-year warranty on every product. Contact us to find the perfect lathe for your company today.
DOWNLOADABLE PDF QUOTES BY LATHE MODEL
For machine specifications and pricing, please click the below links.
U.S. Industrial Standard Lathes
Most models include:
3-Jaw Chuck & 4-Jaw Chuck
Face Plate & Dog Plate
Chuck Guard
Steady Rest & Follow Rest
Splash Guard
Flood Coolant
Thread Dial
Digital Readout
Taper Attachment
USL1340BH-KIT
USL1640CX-KIT
USL1660CX-KIT
USL2080BH-KIT
USL20120BH-KIT
USL26120BH-KIT
Swing over bedways

USL1340BH-KIT

12.99"

USL1640CX-KIT

16.53"

USL1660CX-KIT

16.53"

USL2080BH-KIT

19.7"

USL20120BH-KIT

19.7"

USL26120BH-KIT

26.0"
Swing over cross slide

USL1340BH-KIT

7.79"

USL1640CX-KIT

8.85"

USL1660CX-KIT

8.85"

USL2080BH-KIT

11.8"

USL20120BH-KIT

11.8"

USL26120BH-KIT

16.53"
Swing over gap

USL1340BH-KIT

18.74"

USL1640CX-KIT

21.65"

USL1660CX-KIT

21.65"

USL2080BH-KIT

28.0"

USL20120BH-KIT

28.0"

USL26120BH-KIT

34.25"
Distance between centers

USL1340BH-KIT

39.37"

USL1640CX-KIT

39.37"

USL1660CX-KIT

59.05"

USL2080BH-KIT

78.74"

USL20120BH-KIT

118"

USL26120BH-KIT

118"
Spindle bore

USL1340BH-KIT

2.008"

USL1640CX-KIT

3.15"

USL1660CX-KIT

3.15"

USL2080BH-KIT

4.134"

USL20120BH-KIT

4.134"

USL26120BH-KIT

4.134"
Spindle speeds range - RPM

USL1340BH-KIT

90 to 2000

USL1640CX-KIT

24 to 1600

USL1660CX-KIT

24 to 1600

USL2080BH-KIT

36 to 1600

USL20120BH-KIT

36 to 1600

USL26120BH-KIT

36 to 1600
Longitudinal feed range - IPR

USL1340BH-KIT

.0049 to .0656

USL1640CX-KIT

.0027 to .150

USL1660CX-KIT

.0027 to .150

USL2080BH-KIT

.0023 to .0937

USL20120BH-KIT

.0023 to .0937

USL26120BH-KIT

.0023 to .0937
Cross feed range - IPR

USL1340BH-KIT

.0016 to .0210

USL1640CX-KIT

.00135 to .075

USL1660CX-KIT

.00135 to .075

USL2080BH-KIT

.0011 to .0404

USL20120BH-KIT

.0011 to .0404

USL26120BH-KIT

.0011 to .0404
Metric Threading range

USL1340BH-KIT

.45 to 10mm

USL1640CX-KIT

.5 to 28mm

USL1660CX-KIT

.5 to 28mm

USL2080BH-KIT

1 to 14mm

USL20120BH-KIT

1 to 14mm

USL26120BH-KIT

1 to 14mm
Inch Threading range -TPI

USL1340BH-KIT

2-1/4 to 40

USL1640CX-KIT

1 to 56

USL1660CX-KIT

1 to 56

USL2080BH-KIT

2 to 28

USL20120BH-KIT

2 to 28

USL26120BH-KIT

2 to 28
Tailstock taper

USL1340BH-KIT

No. 3 MT

USL1640CX-KIT

No. 5 MT

USL1660CX-KIT

No. 5 MT

USL2080BH-KIT

No. 5 MT

USL20120BH-KIT

No. 5 MT

USL26120BH-KIT

No. 5 MT
Spindle power

USL1340BH-KIT

2 HP

USL1640CX-KIT

10 HP

USL1660CX-KIT

10 HP

USL2080BH-KIT

10 HP

USL20120BH-KIT

10 HP

USL26120BH-KIT

10 HP
Power requirement

USL1340BH-KIT

220V, 1ph

USL1640CX-KIT

220/440V, 3ph

USL1660CX-KIT

220/440V, 3ph

USL2080BH-KIT

220/440V, 3ph

USL20120BH-KIT

220/440V, 3ph

USL26120BH-KIT

220/440V, 3ph
Gross Weight

USL1340BH-KIT

1,400 lbs

USL1640CX-KIT

3,900 lbs

USL1660CX-KIT

4,400 lbs

USL2080BH-KIT

6,500 lbs

USL20120BH-KIT

7,700 lbs

USL26120BH-KIT

8,500 lbs
Crated Dimensions- LxWxH

USL1340BH-KIT

77" x 30" x 60"

USL1640CX-KIT

100" x 48" x 60"

USL1660CX-KIT

120" x 48" x 60"

USL2080BH-KIT

147" x 40" x 50"

USL20120BH-KIT

183" x 40" x 50"

USL26120BH-KIT

183" x 40" x 55"
3-jaw chuck - diameter

USL1340BH-KIT

8"

USL1640CX-KIT

10"

USL1660CX-KIT

10"

USL2080BH-KIT

12"

USL20120BH-KIT

12"

USL26120BH-KIT

12"
4-jaw chuck - diameter

USL1340BH-KIT

8"

USL1640CX-KIT

12"

USL1660CX-KIT

12"

USL2080BH-KIT

16"

USL20120BH-KIT

16"

USL26120BH-KIT

16"
Faceplate - diameter

USL1340BH-KIT

10"

USL1640CX-KIT

15"

USL1660CX-KIT

15"

USL2080BH-KIT

25"

USL20120BH-KIT

25"

USL26120BH-KIT

25"
4-way toolpost is included

USL1340BH-KIT

<5/8" square

USL1640CX-KIT

<1" square

USL1660CX-KIT

<1" square

USL2080BH-KIT

<1-1/4" square

USL20120BH-KIT

<1-1/4" square

USL26120BH-KIT

<1-1/4" square
Sino 2-axis digital readout

USL1340BH-KIT

Included

USL1640CX-KIT

Included

USL1660CX-KIT

Included

USL2080BH-KIT

Included

USL20120BH-KIT

Included

USL26120BH-KIT

Included
Steady rest

USL1340BH-KIT

Included

USL1640CX-KIT

Included

USL1660CX-KIT

Included

USL2080BH-KIT

Included

USL20120BH-KIT

Included

USL26120BH-KIT

Included
Follow rest

USL1340BH-KIT

Included

USL1640CX-KIT

Included

USL1660CX-KIT

Included

USL2080BH-KIT

Included

USL20120BH-KIT

Included

USL26120BH-KIT

Included
Micrometer carriage stop

USL1340BH-KIT

Included

USL1640CX-KIT

Included

USL1660CX-KIT

Included

USL2080BH-KIT

Included

USL20120BH-KIT

--

USL26120BH-KIT

--
Thread dial

USL1340BH-KIT

Included

USL1640CX-KIT

Included

USL1660CX-KIT

Included

USL2080BH-KIT

Included

USL20120BH-KIT

Included

USL26120BH-KIT

Included
Work lamp

USL1340BH-KIT

Included

USL1640CX-KIT

Included

USL1660CX-KIT

Included

USL2080BH-KIT

Included

USL20120BH-KIT

Included

USL26120BH-KIT

Included
Taper attachment

USL1340BH-KIT

Included

USL1640CX-KIT

Included

USL1660CX-KIT

Included

USL2080BH-KIT

Included

USL20120BH-KIT

Included

USL26120BH-KIT

Included
Rear splash guard

USL1340BH-KIT

Included

USL1640CX-KIT

Included

USL1660CX-KIT

Included

USL2080BH-KIT

Included

USL20120BH-KIT

Included

USL26120BH-KIT

Included
Chuck guard

USL1340BH-KIT

Included

USL1640CX-KIT

Included

USL1660CX-KIT

Included

USL2080BH-KIT

Included

USL20120BH-KIT

Included

USL26120BH-KIT

Included
Flood coolant system

USL1340BH-KIT

Included

USL1640CX-KIT

Included

USL1660CX-KIT

Included

USL2080BH-KIT

Included

USL20120BH-KIT

Included

USL26120BH-KIT

Included
Slide out chip trays

USL1340BH-KIT

Included

USL1640CX-KIT

Included

USL1660CX-KIT

Included

USL2080BH-KIT

Included

USL20120BH-KIT

Included

USL26120BH-KIT

Included
Price - F.O.B. Memphis, TN

USL1340BH-KIT

$11,950.00

USL1640CX-KIT

$22,990.00

USL1660CX-KIT

$25,990.00

USL2080BH-KIT

$34,990.00

USL20120BH-KIT

$38,990.00

USL26120BH-KIT

$44,990.00