Skip to Content
Surface Grinders
U.S. Industrial Machinery has you covered with all of the machinery to perform artistic metalworking jobs right down to the finish. Our surface grinder inventory includes four models that offer varying levels of grinding but all provide the finish you need. Our company prides itself on the high level of customer service we provide each customer. This includes our ongoing support for you with your products, including our warranty, troubleshooting support, and traveling field technicians. Contact our team today to learn more about incredible equipment at some of the most competitive prices.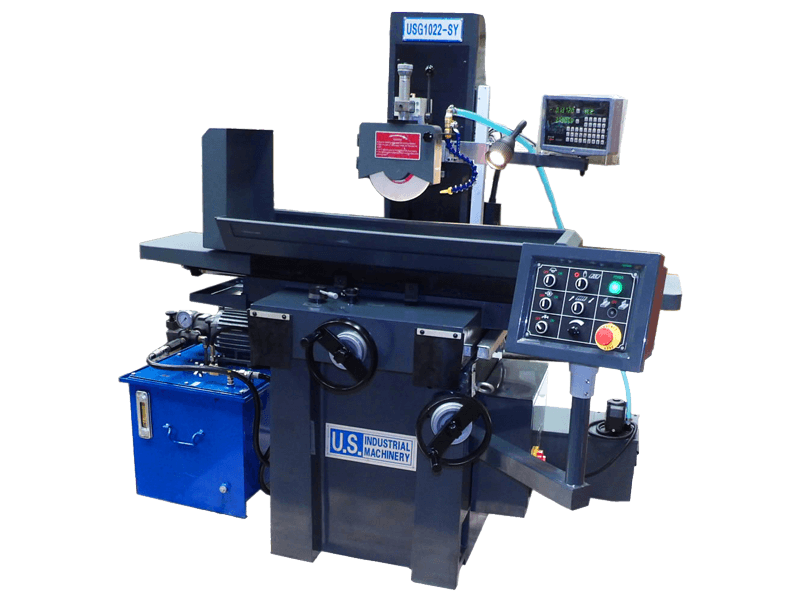 Types of Surface Grinder Operation
Each one of our surface grinders includes a two-axis readout. Operation type varies by model number, but you can find a machine that offers all manual operation, electric reciprocating and electric cross, or hydraulic reciprocating and electric cross. Each one is capable of 220- or 440-volt 3-phase electric power.
Surface Grinder Standard Features
At our Memphis, Tennessee facility we complete the assembly, calibrate, test, and perform cosmetic upgrades of all in-coming machinery. We don't let products leave our hands until we are fully confident that they surpass our high standards. When you order one of our four standard models, you can look forward to included features, such as:
Sino two-axis digital readout
Grinding wheel
Balancing base and arbor
Wheel dresser with diamond
Lube system
Permanent magnetic chuck
Wheel flange
Toolbox and tools
Coolant system
DOWNLOADABLE PDF QUOTES BY SURFACE GRINDER MODEL
Your Surface Grinder Headquarters
Since 1986, U.S. Industrial Machinery has taken a hands-on approach to sales and customer service. Our customer base is made up of equal parts local mom and pop service providers and national corporations, and we offer the same level of detail and care to both. Whether you need a basic surface grinding machine for small shop jobs or a custom-built piece of equipment for industrial-sized work, we can provide a solution for you. Contact us for a quote today.
U.S. Industrial Surface Grinder Models
Surface Grinder
USG618A-S
USG618S-SD
USG1022-SY
USG1224-SY
USG1022-AHD
USG1224-AHD

Surface Grinder

Two-Axis Readout Included

USG618A-S

Yes

USG618S-SD

Yes

USG1022-SY

Yes

USG1224-SY

Yes

USG1022-AHD

YES, on touch screen computer

USG1224-AHD

Yes, on touch screen computer

Surface Grinder

Type of Operation

USG618A-S

All Manual

USG618S-SD

Electric Recip. and Elec. Cross

USG1022-SY

Hydraulic recip, electric cross

USG1224-SY

Hydraulic recip, electric cross

USG1022-AHD

Hyd. table, elec. Cross and downfeed

USG1224-AHD

Hyd. table, elec. Cross and downfeed

Surface Grinder

Slideway Type

USG618A-S

V Rail With Ball Track

USG618S-SD

V Rail With Ball Track

USG1022-SY

Double V Type Rail

USG1224-SY

Double V Type Rail

USG1022-AHD

Double V type rail

USG1224-AHD

Double V type rail

Surface Grinder

Machine Lube System

USG618A-S

One-Shot Manual

USG618S-SD

One-Shot Manual

USG1022-SY

Part of Hydraulic System

USG1224-SY

Part of Hydraulic System

USG1022-AHD

Part of hydraulic system

USG1224-AHD

Part of hydraulic system

Surface Grinder

Function of table reciprocation

USG618A-S

Manual-handwheel only

USG618S-SD

Elec. Drive table & cross

USG1022-SY

Hydraulic recip only

USG1224-SY

Hydraulic recip only

USG1022-AHD

Hyd and electric, full 3-axis auto

USG1224-AHD

Hyd and electric, full 3-axis auto

Surface Grinder

Wheelhead movement up/down

USG618A-S

handwheel-manual

USG618S-SD

handwheel-manual

USG1022-SY

handwheel-manual

USG1224-SY

handwheel and power elevation

USG1022-AHD

handwheel and power elevation

USG1224-AHD

handwheel and power elevation

Surface Grinder

Wheelhead dial graduation

USG618A-S

.0002"

USG618S-SD

.0002"

USG1022-SY

.0002"

USG1224-SY

.0004"

USG1022-AHD

.0002"

USG1224-AHD

.0004"

Surface Grinder

Perm mag chuck included

USG618A-S

5.9" x 15.75"

USG618S-SD

5.9" x 15.75"

USG1022-SY

9.8" x 19.7"

USG1224-SY

11.8" x 23.6"

USG1022-AHD

9.8" x 19.7"

USG1224-AHD

11.8" x 23.6"

Surface Grinder

Pole spacing of mag chuck

USG618A-S

.125"

USG618S-SD

.125"

USG1022-SY

.125"

USG1224-SY

.090"

USG1022-AHD

.125"

USG1224-AHD

.090"

Surface Grinder

Table/cross travel max

USG618A-S

18" x 7"

USG618S-SD

18" x 7"

USG1022-SY

22" x 10.2"

USG1224-SY

24.8" x 12.6"

USG1022-AHD

22" x 10.2"

USG1224-AHD

24.8" x 12.6"

Surface Grinder

Cross dial graduation

USG618A-S

.0005"

USG618S-SD

.0005"

USG1022-SY

.0005"

USG1224-SY

.0005"

USG1022-AHD

.0005"

USG1224-AHD

.0005"

Surface Grinder

Grinding wheel supplied

USG618A-S

7" x 1/2" - 1.25" hole

USG618S-SD

7" x 1/2" - 1.25" hole

USG1022-SY

8" x 3/4" -1.25" hole

USG1224-SY

12" x 1-1/4" - 3" hole

USG1022-AHD

8" x 3/4" -1.25" hole

USG1224-AHD

12" x 1-1/4" - 3" hole

Surface Grinder

Dist under wheel to chuck

USG618A-S

7 -1/2"

USG618S-SD

7 -1/2"

USG1022-SY

10"

USG1224-SY

11 - 1/2"

USG1022-AHD

10"

USG1224-AHD

11 - 1/2"

Surface Grinder

Wheel balancing arbor/base

USG618A-S

Yes - included

USG618S-SD

Yes - included

USG1022-SY

Yes - included

USG1224-SY

Yes - included

USG1022-AHD

Yes - included

USG1224-AHD

Yes - included

Surface Grinder

Over wheel diamond dresser

USG618A-S

No - table dresser

USG618S-SD

Yes - included

USG1022-SY

Yes - included

USG1224-SY

Yes - included

USG1022-AHD

Yes - included

USG1224-AHD

Yes - included

Surface Grinder

Worklight

USG618A-S

included

USG618S-SD

included

USG1022-SY

included

USG1224-SY

included

USG1022-AHD

included

USG1224-AHD

included

Surface Grinder

Spindle RPM

USG618A-S

3360

USG618S-SD

3360

USG1022-SY

3360

USG1224-SY

1680

USG1022-AHD

3360

USG1224-AHD

1680

Surface Grinder

Spindle HP

USG618A-S

2 HP

USG618S-SD

2 HP

USG1022-SY

2 HP

USG1224-SY

3 HP

USG1022-AHD

2 HP

USG1224-AHD

3 HP

Surface Grinder

Hydraulic System

USG618A-S

NA

USG618S-SD

NA

USG1022-SY

2 HP - 21 gallons

USG1224-SY

3 HP - 27 gallons

USG1022-AHD

2 HP - 21 gallons

USG1224-AHD

3 HP - 27 gallons

Surface Grinder

Coolant Pump - Tank size

USG618A-S

40 watt - 9 gallons

USG618S-SD

40 watt - 9 gallons

USG1022-SY

40 watt - 9 gallons

USG1224-SY

40 watt - 9 gallons

USG1022-AHD

40 watt - 9 gallons

USG1224-AHD

40 watt - 9 gallons

Surface Grinder

Voltage - Customer specify

USG618A-S

220/440, 3 phase

USG618S-SD

220/440, 3 phase

USG1022-SY

220/440, 3 phase

USG1224-SY

220/440, 3 phase

USG1022-AHD

220/440, 3 phase

USG1224-AHD

220/440, 3 phase

Surface Grinder

Full load amps @ 220 Volts

USG618A-S

4

USG618S-SD

6

USG1022-SY

20

USG1224-SY

20

USG1022-AHD

22

USG1224-AHD

22

Surface Grinder

Gross Weight

USG618A-S

1690 lbs.

USG618S-SD

1690 lbs.

USG1022-SY

2,300 lbs.

USG1224-SY

3,400 lbs.

USG1022-AHD

2,300 lbs.

USG1224-AHD

3,400 lbs.

Surface Grinder

Shipping Dimensions

USG618A-S

40"L x 45"W x 70"T

USG618S-SD

40"L x 45"W x 70"T

USG1022-SY

48"L x 66"W x 73"T

USG1224-SY

56"Lx 72"W x 76"T

USG1022-AHD

48"L x 66"W x 73"T

USG1224-AHD

56"Lx 72"W x 76"T

Surface Grinder

Price F.O.B. Memphis, TN

USG618A-S

$10,990.00

USG618S-SD

$13,990.00

USG1022-SY

$18,990.00

USG1224-SY

$24,990.00

USG1022-AHD

$26,990.00

USG1224-AHD

$23,990.00